Pine Tree Swing
Our majestic 100 year old pine in the back yard of the Ranch House is an attraction, in and of itself, but children off all ages cannot resist the allure of the special swing, that keeps them spinning for hours.
Tetherball
This is a game that is typically played on school playgrounds or camp settings between two players that try in opposite directions to wind a tethered ball around a center pole.
Cross Country Skiing
This popular sport is as close as the back door if you have the right equipment. Guests can round the trails on the property or drive two kilometres to the parking lot at Lac Philip to access some of the best cross-country ski trails in the world.
Swimming
Our private spring-fed 10-acre lake is only 100 meters from our housing units and has clean water and no weeds. Our small sandy beach is ideal for children and there is a gradual slope into the deeper water. Youngsters love to swim out to the raft which makes a great tanning spot. Avid swimmers can also swim the perimeter which takes about 20 minutes or across the lake and back.
Snowshoeing
There is no better way to explore our 50 acre property in the winter than on snow shoes. Bring your equipment and let the adventure begin.
Skating
When weather conditions permit we try to keep a skating rink cleared for the use of our guests. The season typically coincides with when the canal in Ottawa is open. Call us in advance regarding ice conditions.
Scavenger Hunt
Over the years we have identified unique attractions on our property that have been incorporated into a scavenger hunt on site. If this is an activity that you think your group would enjoy ask us in advance for the Scavenger Hunt Map.
Lounging and Reading
Hardly an activity although reading would qualify. We have some great Adirondack chairs dispersed throughout the property so finding the right spot to sit back and relax is easy to do. We have also tucked away some restful seats in a few special sun spots.
Horseshoes
The game of horseshoes dates back to ancient Greece and is now played regularly by more than 15 million people in North America alone. Our horseshoe pit enables you to enjoy this fun and enduring game that lends itself well to a beautiful summer day.
Horses
Guests are welcome to feed apples or carrots to our horses who are very friendly and will usually come over when called in a loud voice "COME BEAU". Week long visitors should ask us about a "RUNNING OF THE HORSES", which is a spectator event that can usually be arranged at some point during your visit.
Hiking
On our 50 acre property there are lots of primary and secondary trails to explore. The primary trails are logging roads and are well defined while the secondary trails tend to be ones that we initially opened up to increase our riding options. For more hard core hikers right out the front gate there is a ten kilometer gravel road over the rolling country-side with little or no traffic and interesting scenery. Two kilometers down the road is the Gatineau Park with one of the best trail systems in the world!
Gathering Mushrooms
At the right time of year particularly when it has been raining for some time wild mushrooms of differing varieties, including Chanterelles, are abundant on our property. We do not recommend eating them unless you are an expert as many wild mushrooms can be poisonous.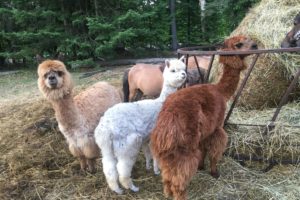 Alpacas
Guests are welcome to feed treats to our alpacas who are part of the herd. The brown one is named Kim, the gold one is her daughter Chi and the white one is her son Moon.
Boating on our Private Lake
We keep a row boat and two canoes at the lake which are for the general use of our guests (a fee may apply). Paddles, oars and life vests are also available to guests. Our guests enjoy using our watercraft to check out the turtles sunning on the shores or just to cruise around and enjoy the serenity of being on the water.
Bird Watching
We are nature lovers so have been actively attracting birds to our property by providing places for them to live in bird houses scattered throughout the orchard and barn yard.
Beach Volleyball
No matter what level or skill set you have, guests love to get a group together and knock the ball over the net…its not necessarily competitive but sure is lots of laughs and lots of fun.
Basketball Hoop
As kids growing up we always had a backboard and basket on the side of the barn or garage so basketball became our sport. Shooting hoops is a great pastime and we find children and adults alike spending countless hours playing games on our court.
Badminton
If you bring your own rackets and birdie you can use the volleyball court to play badminton.